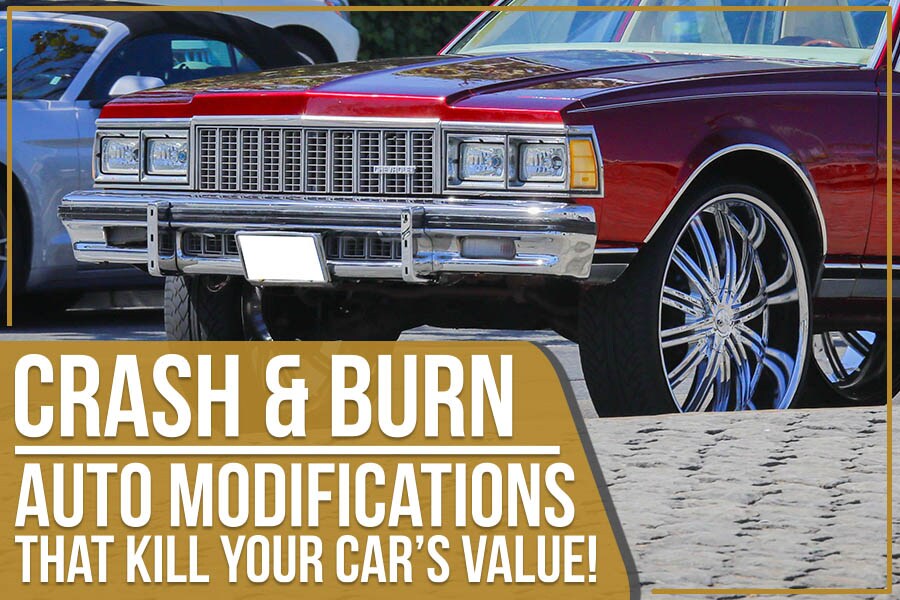 Car modifications can be a fun way to show off your personality and make your ride more unique. But before you start adding spoilers, custom paint jobs, and new tires, keep in mind that some mods can decrease your car's value. So before you go customizing your ride, here are five auto modifications that are just not worth your money.
1.

 
Oversized Rims
Adding new wheels is a popular modification amongst car enthusiasts. But if you go too big, your car will look out of proportion and could lose value. Stick to a proportional size to your car's body for the best results.
2.

 

Lowered Suspension
A lowered suspension may give your car a cool, street racer look - but it can also decrease its value. If you're thinking about lowering your suspension, be sure to do your research first and make sure it won't hurt the resale value of your vehicle.
3.

 

Excessive Bodywork
While a few tasteful body modifications can increase the value of your car, going overboard can have the opposite effect. If you plan on selling your car in the future, keep any bodywork or modifications to a minimum.
4.

 
Non-OEM Parts
Installing aftermarket parts may void your car's warranty and could decrease its value. Many unreliable dealerships use OEM parts that aren't up to par, so be sure to do your research before making any modifications.
5.

 

Aftermarket Electronics
There is little doubt that aftermarket electronics can improve the functionality of your car. However, many dealerships and private buyers are unwilling to pay extra for these upgrades. In some cases, aftermarket electronics can decrease your car's value.
6.

 
Poorly Executed Mods
Even if you're careful with your modifications, there is always a risk of damaging your car. This is especially true for adding complex modifications without professional help. Not only will this decrease your car's value, but it could also void your warranty.
7.

 
Custom License Plates
Personalized license plates may seem super fun and exciting. However, they can make your car less valuable. Many people find them tacky and will decline to submit an offer for a car with a number plate they have no interest in.


Even if you're not a car enthusiast, it's essential to be aware of the auto modifications that can drastically reduce your car's value. Are there any specific auto modifications that you've been considering? If so, talk to our team at Bill Holt Chevrolet serving Blairsville, TN.


Our experienced staff tends to all your vehicle modifications needs, suggesting necessary changes along the way.


If you have queries about the modifications mentioned above or need help regarding vehicle upgrades, schedule a session with our team!